If you are a blogger by profession and love working with WordPress then you are following correct path to reach your goals.
WordPress and blogging is the perfect combination that we have seen to date. All know that WordPress was invented few years ago as a blogging platform and with the huge contribution and efforts of the community has made WordPress the most popular CMS all over the world.
Blogging is the best way to connect your interest with yourself. Maybe you love to explore your expertise, the experience you had on your holidays, bought a new brand phone and looking to share features of it.
Maybe you have a mouthwatering recipe, or maybe you might be looking to explore your skills in photography, videography, fashion designing, drawing, etc.
Best Free WordPress Themes For Blogs 2022
You might be waiting for the right time and the right platform that will help you to share your knowledge and experience in the best possible way.
If you are looking for the best free WordPress themes for blogs then you have visited the right page. If you eagerly looking to talk about your skills and experience then blogging is the best way to do that.
Your blog will only get success in the web world only if your blog has an impressive look, professional design, easily readable and viewable content, well-structured information, and so on. These all factors matter a lot when it comes to getting top-ranked on major search engines.
Ensuring that your blog is easily viewable on mobile devices, the responsiveness of your blog is a must. These all are the part of an experience that you use will have.
Although we are sharing some efficient, impressive, professional-looking best free WordPress themes for blogs that make sure your visitor will have awesome user experience and they would like to visit your blog again and again.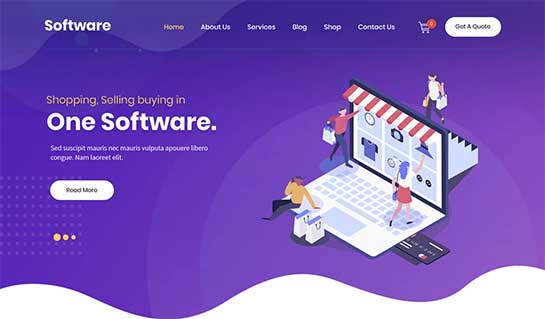 SKT Software is a lightweight and responsive WordPress template that is perfect for creating a different niche blog. Especially the homepage demo comes handy to set up programming and another professional service blog in just a few clicks.
This template can be used by developers, designers, freelancers, and individuals to explore their technical services. It also can be considered as the most flexible template for creating an efficient blog.
The template is compatible with the page builders to help you in modifying blog content easily. Different types of fonts are available that can be chosen to style your blog as per your need.
To change its appearance you can use colors, high-quality images, multimedia content, icons, and other required elements. More than 950+ typography is available to style the texts of your website or a blog.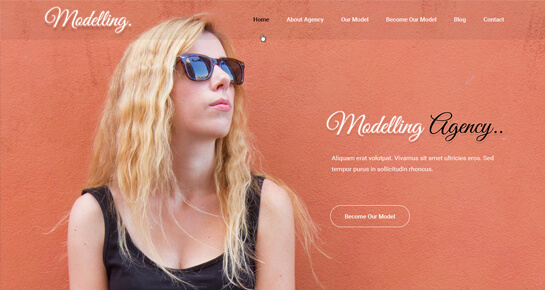 Modelling Lite is the most beautiful and stylish best free WordPress themes for blogs It has a default homepage that can be used to set up a blog on lifestyle, clothing, fashion, stitching, designing, healthy lifestyle, and even eCommerce website.
This template works well with all devices and browsers because it is made fully responsive. It also works perfectly with all free page builders including WPBakery, Visual Composer, elementor, etc.
It comes with the support of eCommerce functionality so that you can sell clothes, designer clothes, and items to enhance your lifestyle. It is also made translation ready that can be used to create blogs in different languages.
Modeling Lite is a lightweight platform that comes with the minimalist features to make your website load faster.
It has tons of fonts and color options. The modification of content can be easily viewed in WordPress live customizer. The template is crafted by considering all SEO and WordPress standards.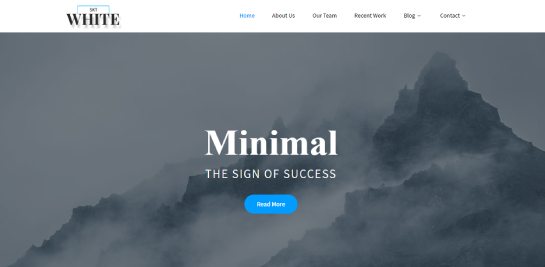 SKT White was created to provide you a simple-looking, lightweight, and mobile responsive template. It comes with features like multilingual, user-friendly, responsive, translation ready, etc.
We would recommend this template for beginners to set up their blogs with minimalistic features. The template works great with popular page builder plugins which means you can easily modify your blog or website content as per your wish.
It comes with the different content compatibility features that allow you to add Google maps, CTA's, social media links, buttons, text, images, and videos efficiently.
SKT White is also compatible with WPML, WooCommerce, TranslatePress, MailChimp, bbPress and other useful plugins.
It is easy to translate into different languages. Every website content and elements available on your website will look responsive to cross browsers and hand-held devices. Easy customization options are provided along with 900+ fonts options and colors.
SKT Girlie is a multipurpose and best free wordpress themes for blogs that can be used to craft modern and stylish blog niches. It has everything that you require to create an effective and impressive online presence.
It adapts every screen size resolution and provides features to modify and setup completes dynamic website within matter of minutes.
This template helps you to arrange your content in a systematic way. To appeal your thoughts visually it accepts high-quality images.
One should choose SKT Girlie because it has a responsive design, multilingual feature, plenty of options for fonts, a one-click importer, color option, and more. It is completely supported by the WooCommerce plugin.
SKT Girlie was created in such a way that it can fulfill all feminine website needs and requirements.
This template is enhanced by using minimalist coding, lightning-fast loading tines, eCommerce functionality, increase sales with more organic user traffic, search engine optimization, and so on.
Now creating a blog on interior designing and architecture will be an easier task because Decor Lite comes in handy to help you. It has a 100% mobile-friendly design.
As decor-related business needs to focus more on visual graphics, we had to make sure with Decor Lite you can impress your clients visually as much as you can.
Because interior and wall decor is all about the right combination of textures, colors, styles, and something uniqueness in your feature, we have tried our best to embed all those features to avail you visually appealing layout.
This template is actually designed by considering all modern aspects. It is well suitable for creating blogs as well as websites for home decor, interior designers, architectural firms, online furniture stores, decoration, interior design company, and color schemes.
It is also the best option for bloggers to love to explore their fashion designing skills decor skills.
Flower shop lite makes an easy task for bloggers and shop owners to explore their views and sell flowers online.
This template is well suitable for flower shops, handmade stores, gardening, cleaning, wedding agencies, and environment service agencies. With easy to use functions you can get your website or a blog up and running on the web.
It is supported by shortcodes that make your website to perform faster. This template has a responsive and modern design that will attract maximum visitors towards your blog.
Make the use of color options, typography options, and functionalities to make your website more attractive. This template is also SEO friendly that makes sure your blog will have better rankings on search engines.
Correct Lite is a clean and professional looking and best free WordPress themes for blogs that make sure your blog looks informative from every aspect.
It has an awesome user interface with stunning features that makes visitors stay longer time on your blog. It is completely retina ready and responsive which means it allows you to target mobile users too.
All amazing features of Correct Lite make sure that your website stand out unique in the crowd. The major attention is given to the content so that you can drive user attention towards your most valuable blog content.
With minimal design, your website will get load faster and rank up higher on SE to get more sales.
Pin Charity Lite is a free WordPress theme that will help you to explore your NGO's related services. This template is highly flexible, responsive, and user-friendly to use. Your blog will have a clean and modern look to attract more visitors to get huge donations.
This template has a one-click importer feature that makes your blog setup process easier. Because the template is SEO optimized, more and more people will be able to find your blog on top search engines.
Additionally, the template is also tested with complete eCommerce functionality. Thus it delivers the best possible results.
If you are looking for simple yet elegant best free WordPress themes for blogs then Clean Lite is for you. This template goes with simple blogging niches for example professional services, corporate services, etc.
Some most interesting features of this template are responsiveness, clean, modern structure, elegant look, respective colors, attractive fonts, and more.
If you are the one who is looking to set up a blog quickly with minimum features and fewer animations, then Clean Lite is for you.
The template is crafted by following all best SEO practices and optimized for good loading speed and faster performance.
Your visitors won't be irritated because they did not need to wait for ages to get a load all your blog content. Social media buttons are integrated by default in the footer.
Your visitors who like your content will be able to share that content on their social media profiles. It is also supportive of the WPML plugin to provide you a multilingual website.
Whether you are looking for a template to create a bookstore website or looking to explore your views on books by starting a blog you will find Library Books more helpful.
By utilizing its features you can create an eCommerce store, service page website, and a blog. It provides you plenty of features that help you to create any type of website that you think of.
You will love its simple yet elegant design that makes your website load faster and look stunning on the web. This is more useful if you are in a rush because it gives a one-click importer feature to set up a website or a blog in just one click.
Herbal Lite is extremely adaptive best free WordPress themes for blogs that match all different types of environment and nature niches.
If you are starting a new business related to nature like healthy meals, herbal store, environmental services, charity, etc then Herbal Lite will match your vision.
This theme follows all rules and regulations mentioned by WordPress to give you an excellent performance.
You can perform some more modifications to make your online presence more appealing. You can change color, fonts, icons, logo, etc without writing a single line of code.
You can use different types of content to capture more leads. For example, you can use videos to promote your services, Google Maps for direction, high appealing images to attract customers, and so on.
Eco Friendly is another most impressive and good looking theme that can be used to create a blog in the environmental or nature niche.
Even if you are a beginner or new in the development field you will find this template more helpful because everything has been provided at your fingertips.
For example, you will find options for direct demo import, a one-click option for eCommerce setup, and so on. The template is provided with an attracted header section to attract more clients.
your visitors will be able to contact you by accessing the feature called a call to action button.
Bistro Lite comes with a simple and clean layout that makes a template more lightweight and easy to use. It is a Best free WordPress themes for blogss like it can be used for hotels, restaurants, cafes, juice, and shakes, health drink shakes, etc.
Minimum features are included to make it run smoother and faster. It is also made compatible with WooCommerce and different payment gateways.
To know more about your blog visitors can scroll down the page. They will be able to see food items, testimonials, contact details, galleries, and so on. You can allow your visitors to order any desired item by integrating suitable plugins.